Troop 48 Outings
In 1971 the Sequoyah Council of Johnson City, TN purchased 1800 acres of land in Hamblen and Hawkins Counties in beautiful Northeast Tennessee for the establishment of Camp Davy Crockett. Since then hundreds of Troop 48 Scouts have been a part of the Camp Davy Crockett tradition. Situated among shady woods and rolling hills beside Cherokee Lake, Camp Davy Crockett is the perfect setting for our troop's annual summer camp adventure. Come join us this summer for a camping experience that will be remembered for a lifetime!
The Appalachian Trail is a continuous marked footpath that goes from Katahdin in Maine to Springer Mountain in Georgia, a distance of about 2190 miles. Troop 48 takes many hikes and backpacking trips on the Tennessee/Virginia section of this trail throughout the year. These hikes usually consist of about 8 to 12 miles of moderate backpacking and one night of camping in some of the most beautiful spots of the Appalachian Mountains.
Cumberland Island National Seashore is a 17.5 miles long and totals 36,415 acres of which 16,850 are marsh, mud flats, and tidal creeks. It is well known for its sea turtles, abundant shore birds, dune fields, maritime forest, salt marshes, and historic sturctures. Troop 48 goes to Cumberland Island every three years. As of 2019, Troop 48 has gone 14 times. Highlights of the island expedition include a 45-minute ferryboat ride on the St. Mary's River and Cumberland Sound, relaxed family-style camping at Sea Camp, optional backpacking with a heavy load from 3 to 12 miles in a single day, primitive camping in a beautiful wilderness setting, additional hikes to explore the island, supervised swimming in the Stlantic, crabbing and fishing in the bay waters, surf fishing in the ocean, seafood cooking and eating, and collecting seashells and prehistoric sharks teeth. During previous expeditions to Cumberland Island, we saw alligators, armadillos, deer, raccoons, wild horses, wild pigs, wild turkeys, waterfowl, a few snakes, and many insects!
Every winter, Troop 48 takes one or two ski trips to beautiful resorts such as beech Mountain, Sugar Mountain, or Winterplace. These outings are filled with activities such as games and ping-pong tournaments as well as a wonderful day on the slopes.
A new destination for Troop 48 is the New River Gorge in WV. Hiking, mountain biking, and world-class rock climbing activities challenge scouts to test their skills in a beautiful rugged landscape marked by the world's longest arch bridge.
One of Troop 48's best trips is during the summer to the Philmont Scout Ranch. Born in 1938 as Philturn Rockymountain Scoutcamp, today's Philmont Scout Ranch is a bustling center for high adventure and training. Youth and adults take advantage of the Ranch's camping, training and work programs. Most activity takes place during the summer, but Philmont also offers Autumn Adventure and Winter Adventure programs.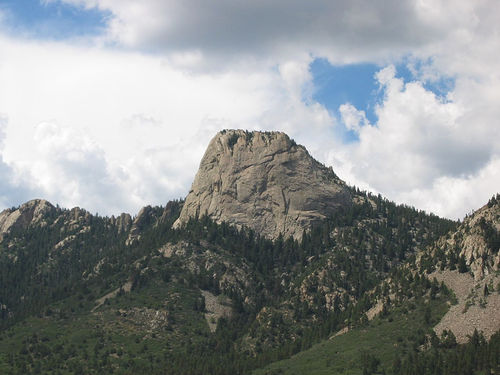 More than 950,000 Scouts, Venturers, and leaders have experienced the adventure of Philmont since the first camping season in 1939. Throughout its existence, conscientious attention to low-impact camping techniques has helped maintain the Ranch's wilderness.

To learn more about Philmont click here